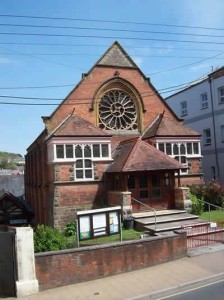 Address: EX17 3AW
Minister:      Rev Ann Varker
Web site (currently being rebuilt)
Sunday services at 10.30am and 6.30pm
For details, see Circuit Preaching Plan
Crediton Methodist Church aspires to be a dynamic worshipping Christian family seeking to play our part in the worldwide mission of God by nurturing, encouraging and supporting one another. We are working towards this aim, but live with the reality that ours is a congregation of varied ages with different needs: some appreciate traditional music and worship styles, and others would like a more modern approach. We now have a Youth Worker and are continuing to work with an architect to develop a refurbishment scheme to improve our premises as a community facility. Our three discipleship groups continue to provide opportunities for personal growth and support.
At our recent Church Anniversary celebration, the Chair of the Plymouth & Exeter Methodist District, Revd Graham Thompson, cut the anniversary cake.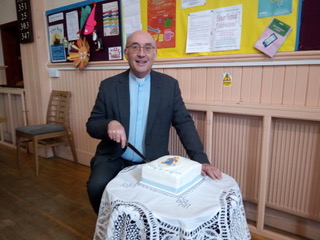 The design featured 'Bob the Builder' to mark progress with our refurbishment project.
Pictures from our Nativity Festival
on 15th and 22nd December 2018