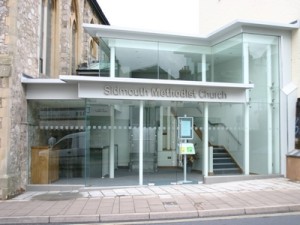 Address: EX10 8LE
Ministers:
Rev Brian Hadfield,  Deacon Becky Lovatt
Web site  here
Sunday services at 10.30am and 6.30pm
For details, see Circuit Preaching Plan
Sidmouth is a large friendly church at the heart of this Regency seaside town catering for a mainly retired congregation and for the many visitors on holiday in the town.  Special outreach services are held during the year including a quarterly healing ministry.  There are a number of midweek activities meeting the devotional and social needs of the membership.,
Our minister, Rev Brian Hadfield is chaplain to the (independent) Sidmouth Lifeboat and on Sea Sunday (8th July 2018) was asked to dedicate their new jet ski, named 'Sid Ski'.
This picture shows the main lifeboat outside the station. It is launched from the beach, after being towed along the esplanade by the tractor.