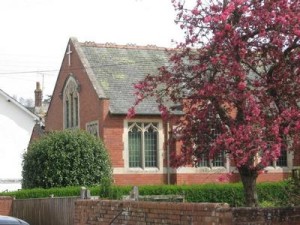 Address: EX5 4HZ
Minister:      Rev Alan Rothwell assisted by Local Preacher Prof. Tony Wragg.
web site here
Sunday services at 10.30 am & 6.30 pm
For details, see Circuit Preaching Plan
Silverton Methodist Church's Vision is to proclaim conviction of the love of God as revealed in Jesus Christ; to share worship, activities and resources; to care for people and the community; to put faith into action for others. A village church with variety in worship patterns. Open Saturday mornings. Ecumenical commitment – Covenant Service, Lent, Pentecost. Social response, in action and provision, with monthly coffee mornings, lunches, fellowship gatherings, youth work ('Friday Club', the midweek Junior Church). Used by street market and various other community groups. See Web site (includes directions).  Here to welcome, worship, witness.