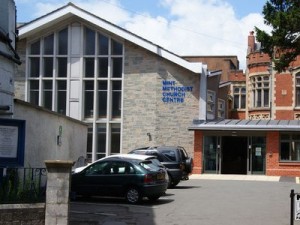 Address: EX4 3AT
Ministers:   Rev Steve Santry
Rev Sungil Han
Web site here
Sunday services at 10.30 am and 6.30 pm
(Korean language service also 10.30 am)
For details, see Circuit Preaching Plan
Our city centre church is a diverse community of worshippers with links to many countries. It is also the meeting point for a flourishing Korean congregation with its own language service. It joins English speakers for Communion and united services.
We are an open and inclusive community of varied theologies and lifestyles which values thoughtful challenging preaching in both traditional and contemporary worship supported by a strong musical tradition and standards.
The Mint has extensive premises open weekdays 9.30 a.m. – 9.30 p.m. and welcomes members and visitors for prayer, communion and support.
Church activities include Young Church, numerous fellowship and social groups including:- Tuesday Fellowship for seniors; Prayer Group; University Chaplaincy Church; a weekly lunch club; and a venue for the Exeter Interfaith Group and Exeter Food Bank.
In addition more than 40 Community Groups are welcomed into the buildings offering a range of activities including Exeter Society for the Blind: yoga and U3A lectures.
The Reception Desk is staffed 9.30 am to 9.30 pm – weekdays.