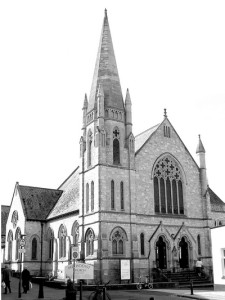 Address: Exmouth EX8 1NT
Minister:      Rev Wayne Grewcock
Sunday service at 10.30 am
For details, see Circuit Preaching Plan
contact Tower Street
Tower Street, in the heart of the town centre, is one third of the Exmouth Methodist Church, and aims to be a safe place providing welcoming worship and care for members and visitors alike.
We hold a weekly traditional worship service to which you are warmly invited. Please stay afterwards for coffee and conversation. We regret that we have no Sunday School, but children are welcome to stay in the service. Quiet area provided.
We are especially pleased to invite you to join us for a light lunch once a month. Catered by our own members and delivered to your table by our outstanding wait-staff, you will receive a relaxed and warm welcome, a hot meal with homemade desserts and good coffee, all for whatever amount you choose to pay. All monies received go to local charities.
We are also pleased to invite you to church like you've never seen it before: The Repair Café. On the first Sunday of each month we are buzzing with a group of community volunteers who will help you diagnose the troubles with your broken household items, determine if they are repairable, and then help you fix them. Lamps, sewing machines, mixers and stereos are often seen, as are clothing and jewellery, and wooden items in need of repair. We are also running DIY sessions as the same time, so come along and learn how to make basic household repairs.  We do not charge for the repairs, but we do ask for a donation which will go towards the running costs of our church. Refreshments are also available (the best bacon sandwiches in town), and sometimes we get a musical accompaniment on the piano!
Find out more: https://www.facebook.com/profile.php?id=1625048404426214&ref=br_rs
Other activities include:
Coffee Mornings Tuesday at 10.30am -12.00
Saturday Lunches 12-2pm once a month, please contact us for exact dates
Repair Café  first Saturday of the month from 10am -1pm
Needlework Group once a month, Wednesday afternoon, please contact us for exact dates
Hard Questions Café  normally meets on the 3rd Monday of the month (except for December and August)  in the hall at Holy Trinity Church, Rolle Road, at 7.30 pm.  Join us and other interested folk from Exmouth to discuss current events and their impact on our Christian lives.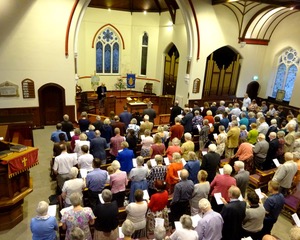 Tower Street recently hosted the Circuit's 'Welcome Service' to mark Rev Wayne Grewcock and Rev Ben Haslam joining our Circuit team from 1st Sep 2018.