This page lists future Circuit and church events.
Methodist Women In Britain
Plymouth and Exeter Circuit Annual Event
at Sidholme, Tuesday 13th- Thurs 15th November 2018.
Leader Carolyn Lawrence.
Details from Mrs D Baker 01395 512023.
_ _ _ 
Exminster Christmas Tree Festival
Back in January 2018, 17 knitters began to knit, producing over 1,500 'angels'. The angels are to be given away over the weekend of Exminster Methodist Church's  Christmas Tree Festival,
which runs from 30th November to 3rd December. (details here)
_ _ _
Nativity Festival
on 15th and 22nd December
at Crediton Methodist Church
Last year we had 34 nativitysets on display.  These ranged from life size statues of Mary, Joseph and 3 Kings made out of cardboard boxes to a tiny nativity set in a matchbox.  There were all materials and sizes.  It proved to be a very successful event and we got lots of visitors from the town.
We are again planning a Nativity Festival – on 15th and 22nd December.  The church will be open from 10.00 am to 4.00pm on both days and refreshments will be served throughout the day, including soup & roll lunches.   We invite you to visit us and add to the display.
_ _ _
Cuttack Sunday 3rd March 2019
Our District is linked with the diocese of Cuttack in India.
More details about Cuttack
Deacon Becky launches her second book.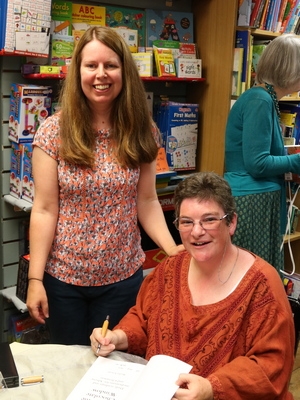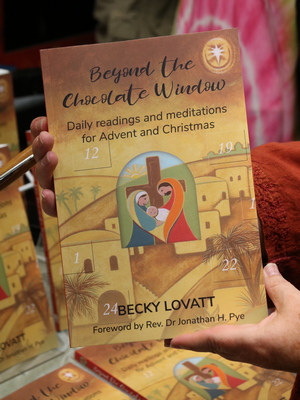 Deacon Becky Lovatt launched her second book in Seaton on 11th July 2018.
 Beyond the Chocolate Window is a set of daily readings and meditations for Advent and Christmas, published by Onwards and Upwards. The event was held at the Owl and Pyramid Bookshop in Seaton.  Becky wrote the devotional work on her recent sabbatical.   Becky (seated) is pictured with long time friend Sara Holden who is the book's illustrator.
Becky published her first book of meditations for Lent and Holy Week in 2013.  It was called In the Shadows Of Victory: Ride the Rollercoaster of Holy Week. Through the sales of this book she was able to raise funds for the Baby Special Care Unit at the Royal Berkshire Hospital in Reading, in memory of their stillborn baby girl, Emerald.  Becky hails from Cornwall and is very proud of her roots.