This page lists future Circuit and church events.
This year it is the 10th birthday of Methodist Heritage; the beginnings of the formation of the Heritage Committee and the launch of the first formal strategy. We have come a long way since then, although our journey and our story continue to grow and change!
To celebrate this, and to share and reflect on what we have learned, we are holding a special event in Oxford on Saturday 18 August this year.
Details, including booking, are on this poster  TellingOurStory SavetheDate 18.08.18.
A Service
and celebration to welcome
Rev'd Wayne Grewcock and Rev'd Ben Haslam
to the Exeter Coast and Country Circuit
Sunday 2 September
6.30pm
Tower Street Methodist Church
Exmouth
Deacon Becky launches her second book.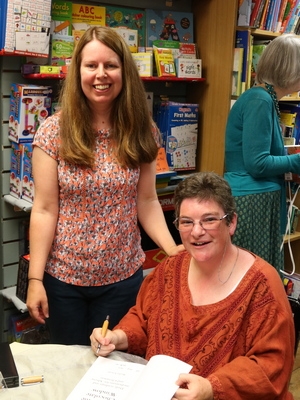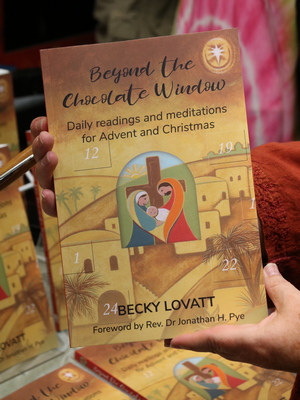 Deacon Becky Lovatt launched her second book in Seaton on 11th July 2018.
 Beyond the Chocolate Window is a set of daily readings and meditations for Advent and Christmas, published by Onwards and Upwards. The event was held at the Owl and Pyramid Bookshop in Seaton.  Becky wrote the devotional work on her recent sabbatical.   Becky (seated) is pictured with long time friend Sara Holden who is the book's illustrator.
Becky published her first book of meditations for Lent and Holy Week in 2013.  It was called In the Shadows Of Victory: Ride the Rollercoaster of Holy Week. Through the sales of this book she was able to raise funds for the Baby Special Care Unit at the Royal Berkshire Hospital in Reading, in memory of their stillborn baby girl, Emerald.  Becky hails from Cornwall and is very proud of her roots.