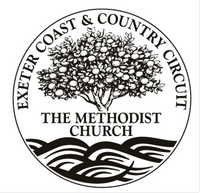 Welcome to the website of the Exeter Coast & Country Circuit of the Methodist Church.
Our name reflects our geography: our
churches
are distributed across the city of Exeter, towns along the coast of East Devon, and market towns and villages around Exeter.
If you are new to the area or want to consider joining us then we are confident we can help. Just drop us a line or call the circuit office (contact us) and we will assist you with any questions you have. You will always find a warm welcome whatever your age or experience of church.
"The calling of the Exeter Coast and Country Methodist Circuit is to respond to God's love in Jesus by sharing our lives through Christian discipleship in worship, mission and service."
 Find out more about our circuit
here
See our preaching plan
here
See a list of future events here
A Service
and celebration to welcome
Rev'd Wayne Grewcock and Rev'd Ben Haslam
to the Exeter Coast and Country Circuit
Sunday 2 September
6.30pm
Tower Street Methodist Church
Exmouth