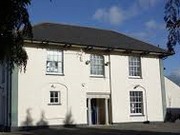 Address: EX13 5AZ
Ministers:
Rev Brian Hadfield,  Deacon Becky Lovatt
Sunday service at 10.30am
(plus occasional 4.00pm service)
For details, see Circuit Preaching Plan
The congregation meets for worship in the 'Upper Room' at Pippins Community & Business Centre on the corner of Stoney Lane and Lyme Road. This room is open to all  users of Pippins during the week as well as the wider community.
The monthly 4.00pm services, which are ecumenical, begin with refreshments and include celebration, reflection, discussion and Iona-style worship.
Every week Deacon Becky leads a bible study for recovering substance abusers in the Upper Room.
We have good ecumenical links and are involved in other church-led activities in the Pippens like the Axminster Job Club which meets every Thursday in conjunction with East Devon Citizens Advice.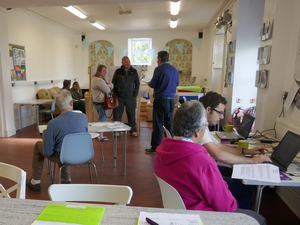 The job club in action.