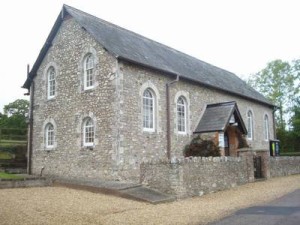 Address: EX13 7EB
Ministers:
Rev Brian Hadfield,  Deacon Becky Lovatt
Sunday service at 11.00am
For details, see Circuit Preaching Plan
Dalwood is an attractive small village with a strong community ethos.
The faithful Methodist congregation warmly welcomes visitors from the Parish Church, the surrounding villages and the local caravan park. The congregation are almost all retired and services are mostly traditional, but not rigidly so.  There is good co-operation with the Parish Church and various united services and events throughout the year. A regular coffee morning provides an opportunity for local people to meet and share in conversation and laughter.
The well kept chapel is an ideal venue to be used by small groups for day retreats.
Good news
"Breaking News" is proving popular, with villagers joining us as we discuss current news items and put the world to rights.  Following Axminster's move to smaller premises, we have brought their Art Club to Dalwood, and several people have joined the club, further strengthening our ties with the village.