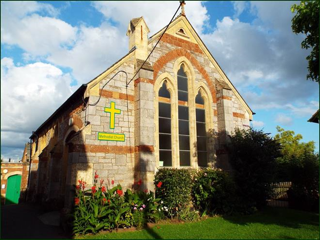 Address: EX6 8BT
Minister: Rev Ben Haslam
Circuit Steward: Mrs Barbara Pillidge
Web site here
Sunday service at 10.30am
For details, see Circuit Preaching Plan
Located in the centre of a growing village just outside Exeter, the Exminster congregation serves the local community through village organisations, the growing use of its premises, and pastoral care.  We upgraded the church and hall in 2016/17 and regularly welcome visitors onto the premises, both during services and at other times during the week.  All age worship continues, as does Cafe Church.
Messy Church meets monthly on Sundays at 4 pm – 6 pm.

The March meeting for Messy Church was a joyful affair with 11 new people joining us and a total of 33 participants.  We sang Happy Birthday to 2 girls
Everyone had a lot of fun exploring the parable of the wise & foolish builders. It was lovely to welcome new members. Activities involved making houses to stand on rocks, painting houses on rocks & recycled cereal boxes.
Smaller children made houses out of Duplo.
We thought of ways to describe God, sorting sentences into wise & foolish actions with a lot of discussion. Many thanks to all our volunteers from the Methodist Church and St. Martins.
The Easter Cross
The Christmas Tree festival – an annual event.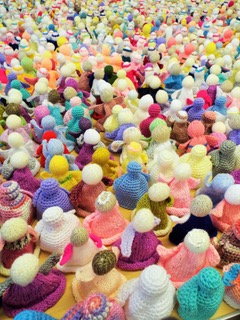 Back in January 2018, 17 knitters began to knit, producing over 1,500 'angels'.  The angels are to be given away over the weekend of the Christmas Tree Festival which runs from 30th November to 3rd December.  (details here)
This angelic host were on display during a Coffee Morning in Exminster Methodist Church hall in October.  The angels have also appeared on local social media.