Exmouth is the largest town in Devon, with a population of over 35,000. Though Exmouth attracts visitors year round, it is also a very popular retirement town and home to the largest Secondary School in the UK.
While the beauty of the beach and the pleasant climate attract many, those who live here also find enjoyment in Exmouth's lively Arts and Theatre community, who provide year-round entertainment of very high quality for all ages.  Exmouth Guide
There is a long history of Methodists in Exmouth. The first Wesleyan Methodists arrived in 1808, meeting in houses and shops around town. In 1843 the first Methodist Chapel was built on The Parade.
Around the time The Parade Methodist Church opened, the Primitive Methodists arrived. Initially meeting in a variety of locations, an opportunity arose in 1859 for them to purchase The Parade from the Wesleyans who were in need of a bigger building. The Wesleyans built a new church – Christchurch – in Brunswick (now Windsor) Square; this was completed in 1872. Sixteen years later, in 1897 the Wesleyans moved again – to Tower Street Methodist Church.
In Withycombe the meeting was first held in a cottage in Popplestone Alley (near the Holly Tree Inn car park) where the first collection was 41/2d. In 1884 they erected a School/Chapel near the present entrance to Withycome C.P. School which came on plan in 1889. Within 20 years this congregation outgrew its first building and built a larger one – the current one – into which they moved in 1907.
The Parade Methodist Church was damaged by bombing during WWII, but the congregation continued to meet there for many years. Eventually it was deemed unsafe and was closed, and the membership was merged with Tower Street.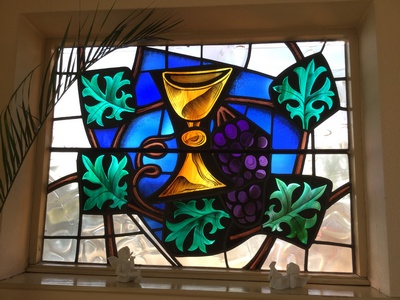 The Parade lives on at Littlemead Methodist Church in the chancel's stained glass windows, which were salvaged from The Parade. These were originally part of another church, then moved to The Parade, and then put in the new Methodist Church plant in Littlemead, about 50 years ago.
The last several years have seen the drawing together of the various Methodist threads in Exmouth, and over the last two years church members have undertaken a programme of long-range planning. They have adopted  a shared mission statement and agreed to form a single Church Council in order create a stronger administrative structure that allows each worship centre to focus more on mission and less on meetings.