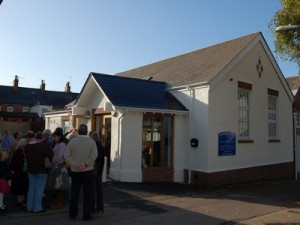 Address: Chapel Street, Honiton, EX14 1EU
Minister: Rev Ben Haslam
Circuit Steward: Mrs Meg Privett
Sunday service at 10.30am
For details, see Circuit Preaching Plan
Contact Honiton Methodist Church
Our congregation is drawn from many church backgrounds, around a core of Methodist members. Our worship style is traditional, but we enjoy interacting with our preachers and are receptive to new ways of doing things. 'Fish Club' caters for a small number of children each Sunday. Centrally situated in this market town, our premises were completely refurbished in 2009 to be truly multi-purpose. Both worship area and adjoining hall provide meeting space for more than 20 community groups. We have a strong pastoral network. Our weekly 'Thursday Morning' session (coffee, table games, art work, conversation…) is open to all in the community.
How to find us
From High Street, go a short distance up New Street (in direction of the Railway Station) until you come to a building that looks like a chapel on your left. Turn immediately left into Chapel Street (a very narrow street, just wide enough for one car) and you'll find us 50m on the right. There is a small car-park, (first in, last out!) but also public parking further up New Street on the right (free on Sundays).
Weekly activities

Our Thursday Morning activity is open, every Thursday, 1000-1200. All are welcome for coffee, to share in a game or craft activity, or just to chat. Come in for 10 minutes or two hours!