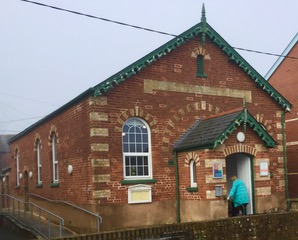 Address: EX8 5ER
Minister:      Rev Wayne Grewcock
Circuit Steward: Mrs Mel Mock
Please note: Lympstone Methodist chapel building is closed and will not re-open. Lympstone Methodist Church looks forward to participating and sharing in weekly worship taking place on Zoom each Sunday at 10.30 am. — Did you know you can join in on Zoom via your landline telephone? Please contact Mel for details: Telephone:  (01395) 270570 or email: pastoral4church@icloud.com
We are part of the Steering Group working hard for Wesley's Cafe Project which is now open, Monday— Saturday, 10am til 4pm. This is a joint project between The Methodist Church and Launchpad CIC working in collaboration to provide a cafe and community space in the heart of Budleigh.
Centrally situated in this estuary village, near to the Railway, our Church is a well used all-purpose modern community building, with fully equipped kitchen. It is suitable for a variety of uses including small group meetings, retreats, and Guiding 'sleep-overs'. Sunday Church life is shaped around the 4W's: Welcome from 10.00am; Worship at 10.30am, a range of styles and music; in Word we explore being a Christian today; Witness reflects our response to God within our Church and World. All ages share our special fellowship together. We delight in a 'Ministry of Food' sharing meals within the church and wider community.
Congratulations to the 'lunch team', the 'building team', the house group and all the people who have given up their time, energy, prayers and donations to make Lympstone Methodist Church a key part of our village and faith community.  We are hoping to develop our involvement with our local and global community as we meet together to support each other through our shared faith.
And here's one way we're doing just that…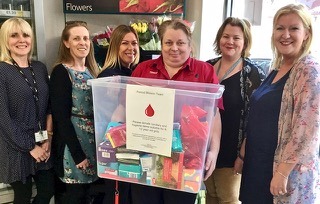 Period Mission Team (PMT) is a Lympstone Methodist Church outreach project for schools in the Exmouth area, to fight period poverty and support equal access to education.
You can follow the progress of the project on the Period Mission Team Facebook page.
We've teamed up with the local Tesco staff who are receiving donations on our behalf at the superstore and town centre Express store. The community have generously donated goods and we are currently supporting five Exmouth primary schools.
Methodist education has always loudly proclaimed that every boy and girl, every woman and man, matters to God. None should be deprived of the opportunity to truly develop their talents.  This belief requires that none should be deprived of education because of race, gender or poverty. In 21st Century Britain over 130,000 girls are missing out on their education because of lack of access to sanitary products. Although the government has started to address this issue in secondary schools, it is now recognised to be an issue in the top years of primary school. We feel that it is an important part of our Methodist Mission to support girls, of any age, to have full access to education.
Head teacher, Nicola Taylor-Bashford from St Joseph's Primary school gave us this quote:
'We are really grateful to the Period Mission Team for supplying the products to our school. It is really good to know that the girls have access to free sanitary products whenever they require them. They needn't worry that their financial situation could prevent them from accessing the products they need. It is wrong that in this day and age the cost of sanitary products still prohibits girls being able to go about their daily lives and access full time education. Period Mission Team is helping put an end to that and we are very pleased to be able to work with them.'
The 5 primary schools currently receiving PMT supply boxes are:  Littleham, Marpool, St Joseph's, Brixington and Withycombe Raleigh.  We aim to reach out further before the summer holidays, to ensure families have supplies over the school break…as education stretches beyond school – and everybody has a right to live life to the full!