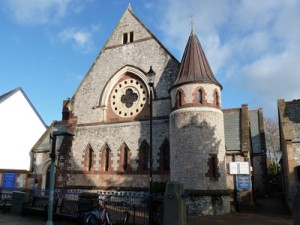 Address: EX3 0HQ
Minister:      Rev Paul Collings
Web site here
Sunday service at 10.30am
For details, see Circuit Preaching Plan
Situated in the centre of Topsham, St Nicholas Methodist Church celebrates 150 years in May 2017 of witness in a town where community spirit is strong. The Church offers a well-supported Saturday coffee morning and the premises are used by various local groups (including a rock band!). Activities include Bible study and discussion mornings twice a month and a lunch club. The Church's prayer board is well used, with requests remembered in Sunday services. Local ecumenical links are strong and St Nicholas plays a full part in regular joint services and, on Good Friday and around Christmas, walks of witness through the town.
See our Church's diary dates for the month
See our most recent annual report
See a short history of our Church
How to find us
The Church is situated in Fore Street, which is a one-way street entered from the Exeter end of the town.  The Church is on the left, half way down the street, at the point where the street narrows.   There is a very small space in front of the Church for car parking, to which access is somewhat awkward and tight.  Visitors may therefore prefer to park in the street (at no charge on a Sunday) or to use one of the town's car parks, at Matthews Hall (Fore Street), on the Quay or in Holman Way (for all of which there is a charge).