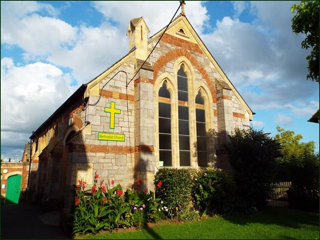 Address: EX6 8BT
Minister: Rev Ben Haslam
Circuit Steward: Dr Sue Jones
Web site here
Update: Exminster is open for worship.
For details, see Circuit Preaching Plan
Located in the centre of a growing village just outside Exeter, the Exminster congregation serves the local community through village organisations, the use of its premises, and pastoral care.  We regularly welcome visitors onto the premises, both during services and at other times during the week to our hall at the rear.  Exminster Messy Church is an established part of the church.
Although forced to close at times during the Coronavirus Pandemic, since Easter 2021 the church has been regularly open for worship.   Since then the number of worshipers has been slowly re-growing and during 2022 new faces have been welcomed into the congregation.   Our pianist has been joined by a saxophonist in leading the singing.   The church is fitted with a modern audio visual system.    In an effort to be Covid-safe, services are a little shorter than pre-Covid and we are greatly benefiting from services being led by a variety of preachers from our Exeter Coast and Country Circuit.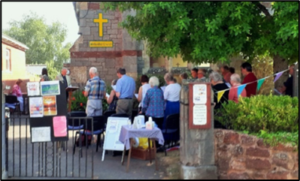 Photo:  Open Air service August 2022
Messy Church is for all ages and welcomes the very young right through to those who are so much older.   It's an opportunity to have fun and explore how Jesus can help us all grow in our own lives and learn more about God.
A free monthly newsletter is produced and circulated, chiefly by email, and daily worship material, The Vine at Home, is available to anyone wishing to receive it.   The church has an active walking group which usually meets fortnightly giving an opportunity to meet with others have a chat and enjoy some exercise as well as visiting interesting places.   Coffee Mornings are re-established on a monthly basis as we look to develop our activities and restart our Fellowship group.
Our hall, at the rear of the church, benefits from a kitchen and fully disabled toilet and has a large screen television for presentations.  It is regularly used by a wide variety of organisations and individuals from Exminster and the surrounding area.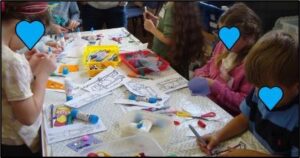 Just inside the gateway, there is now a garden bench which is available for any passers-by to sit and rest for a while.   There is also a regularly used Community Larder in the church grounds, topped up by the local Westbank Centre and individuals in the village, to help prevent food waste.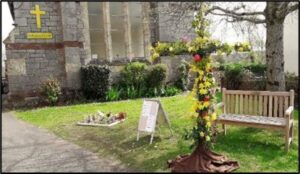 Photo: Easter Cross and garden bench.