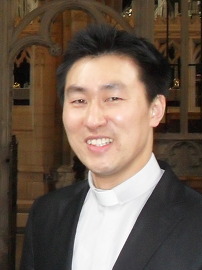 Sungil is originally from South Korea and studied Theology at Mokwon University which is a Methodist school. After graduation, he came in 2007 to the UK for his first ministry in Birmingham where he served at an international church while studying for a masters degree in Theology. He was ordained by the Korean Methodist Church in 2010 and invited by the Mint in the same year.
Sungil is usually called 'Han', his last name, because it's easier to pronounce. His main role at the Mint is taking care of the Korean fellowship and leading Korean worship and Bible studies etc. He also used to work as a chaplain at Exeter University, from 2010 to 2013, but is now focused on his church ministry.
Sungil is married to Songyi and they have three children; two boys and a girl. Sungil enjoys his ministry and the life in Exeter very much and usually spends time meeting people, reading, walking and preparing sermons and Bible studies.