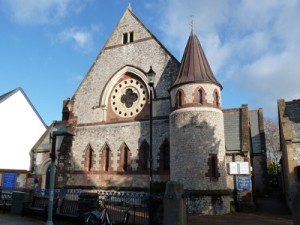 Address: Fore Street, Topsham EX3 0HQ
Minister:      Rev Paul Collings
Circuit Steward: Heather Gould
Web site here
Sunday service at 10.30am
For details, see Circuit Preaching Plan
Folk can join Rev'd Collings in his daily reflections at: http://st-nicholas-methodist.blogspot.com/
Welcome!
Situated in the centre of Topsham, St Nicholas Methodist Church was opened in 1867, although local Methodist worship goes back a further 50 years in the town.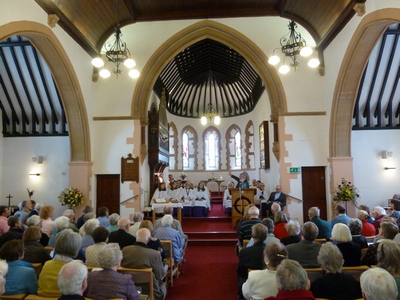 Through the year, St Nicholas will not just be looking inwards through regular Bible study mornings but also outwards via the Church prayer board, the well-supported Saturday coffee mornings, a Christmas tree festival and frequent lettings of the premises. Local ecumenical links are strong and St Nicholas plays a full part in joint services and, on Good Friday and around Christmas, walks of witness through the town.
We are a growing community of faith seeking to discover the face of Jesus Christ in our Church, in our Community and in our Commitment.
Our Vision
1. To act as a beacon for Christ's mission and maintain a safe and welcoming haven for all within the community of Topsham;
2. To recognise the centrality of worship in all our activities, ensuring that it is relevant to our mission and engages the whole congregation;
3. To offer strong and timely pastoral and prayerful support to our members and others who may be in need;
4. To work ecumenically with the other Christian churches in Topsham, thus celebrating our membership of the wider body of Christ;
5. To engage with the needs of the wider world, in Exeter and beyond, especially towards the relief of suffering caused by poverty, deprivation and political strife.
See our Church's diary dates for the month
See our most recent annual report
See a short history of our Church
How to find us
The Church is situated in Fore Street, which is a one-way street entered from the Exeter end of the town.  The Church is on the left, half way down the street, at the point where the street narrows.   There is a very small space in front of the Church for car parking, to which access is somewhat awkward and tight.  Visitors may therefore prefer to park in the street (at no charge on a Sunday) or to use one of the town's car parks, at Matthews Hall (Fore Street), on the Quay or in Holman Way (for all of which there is a charge).