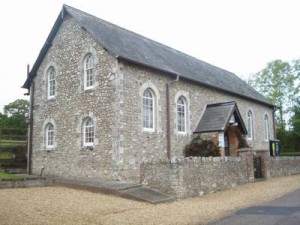 Address: EX13 7EB
Ministers:
Rev Brian Hadfield,  Deacon Becky Lovatt
Circuit Steward: Mrs Meg Privett
Sunday service at 11.00am
For details, see Circuit Preaching Plan
Dalwood is an attractive small village with a strong community ethos.
The faithful Methodist congregation warmly welcomes visitors from the Parish Church, the surrounding villages and the local caravan park. The congregation are almost all retired and services are mostly traditional, but not rigidly so.  There is good co-operation with the Parish Church and various united services and events throughout the year.
The well kept chapel is an ideal venue to be used by small groups for day retreats.
Good news
During lockdown they received the Worship at Home material prepared for this section of the circuit by Margaret Cole and Deacon Becky Lovatt. This is still being received.
Now that the premises are again available for worship and other activities they are reaching out to the community.
Monthly Coffee Morning – this is held on the last Monday of each month. Any money raised is given to either a local charity or to a national charity with links to the area.
Art Club – this informal social group meets every other Wednesday. [18th October 2021 and fortnightly thereafter]. It is a self-help group.
There are on-going talks with the local parish church to discern needs in the community which they could aim to meet between them.
'We feel that all the time God has work for us to do, we will be here.'